International Conference on Electrics, Electronics, and Computer Science 2024
13jun(jun 13)9:00 am14(jun 14)5:00 pmInternational Conference on Electrics, Electronics, and Computer Science 2024ICEECS 2024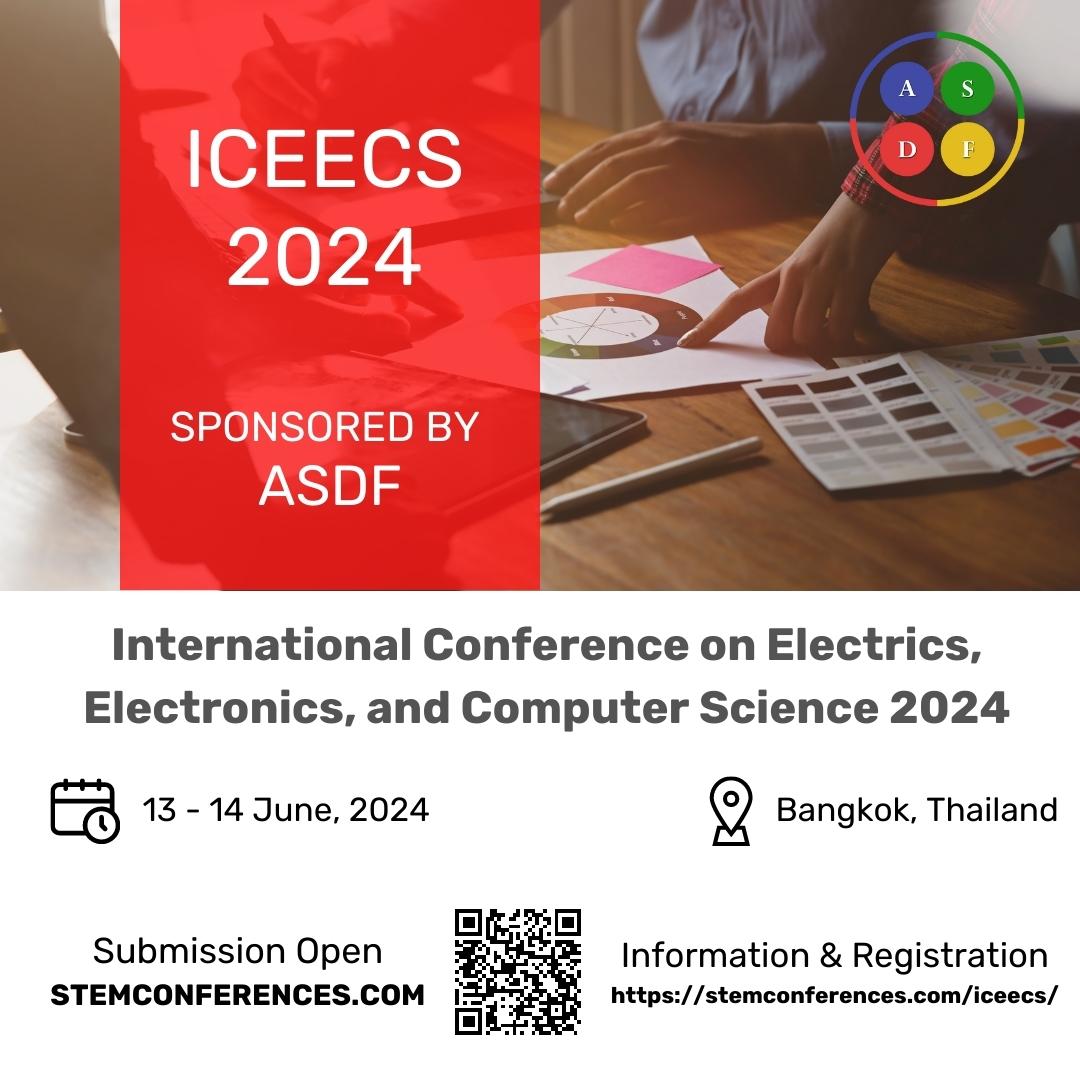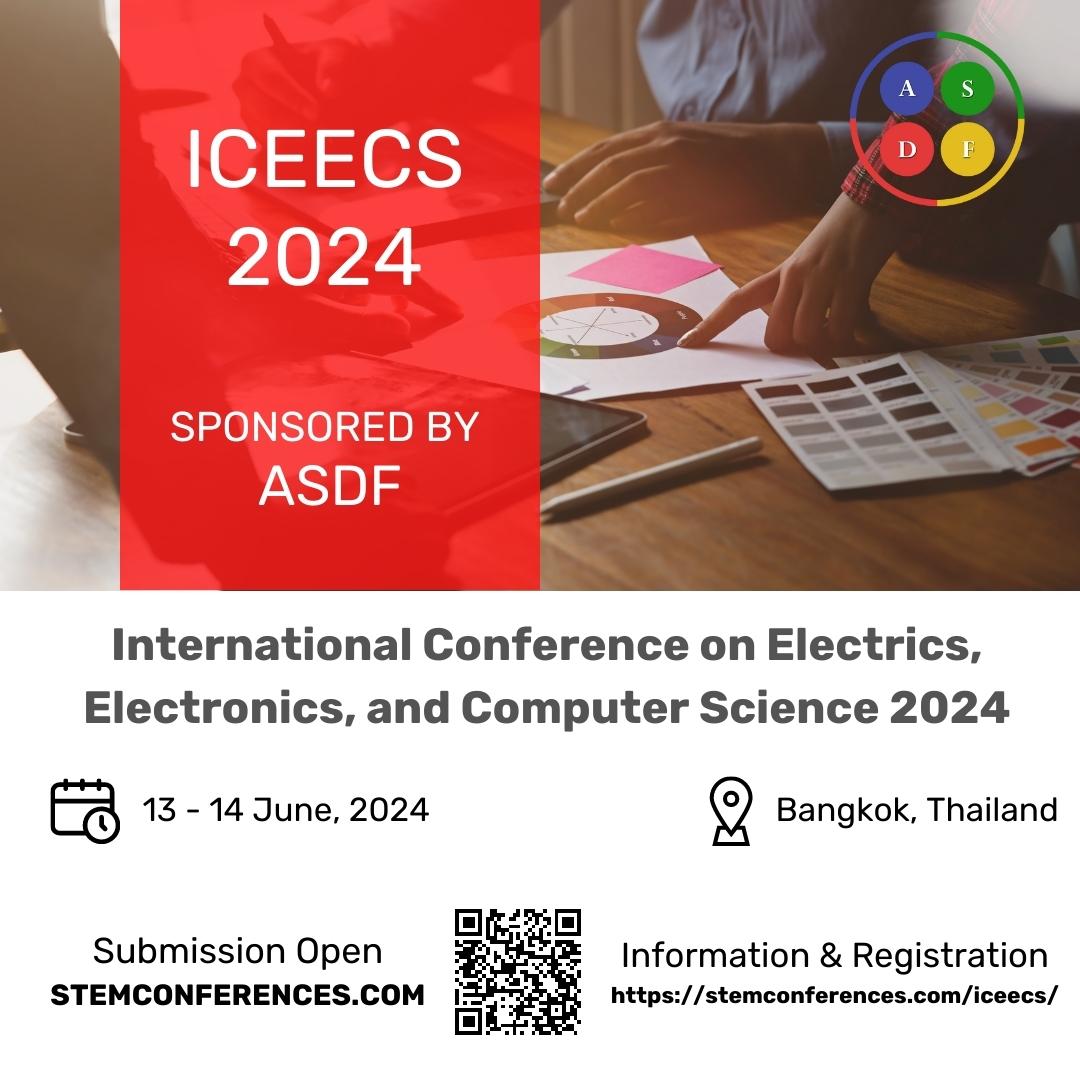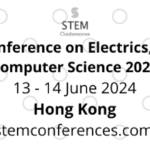 Event Details

EECS 2024 will be the most comprehensive conference focused on the various aspects of advances in Electrics, Electronics, and Computer Science. Our Conference provides a chance for academic and industry professionals to discuss recent progress in the area of Electrics, Electronics, and Computer Science.

The goal of this conference is to bring together researchers from academia and industry as well as practitioners to share ideas, problems, and solutions relating to the multifaceted aspects of Electrics, Electronics, and Computer Science.

All papers accepted and registered will be included in STEM Proceedings and selected papers will be included in SCOPUS and EI journals.
Tracks of the Conferences
Network Theory and Applications
Nanostructures and Nanotechnologies
Molecular Electronics
Molecular Computing
DNA Computing
Circuits and Networks inspired from Biology
Metabolic Networks
Microelectronics
Microcircuits
Analog, Digital, Mixed-Mode Circuits
Electronics: Components, Devices, Systems
Silicon Devices: Technology, Modelling, Reliability
Optoelectronic Devices
Laser and Optical Systems
Thin Film Technologies
Very Large-Scale Integration Systems (VLSI)
Hardware/Software Codesign Very-Large Scale Integration Systems (VLSI)
Digital Filters
High Level Synthesis
Amplifiers
Nonlinear Circuits
Sensors
Physical Design
Time-Frequency and Wavelet Applications
Modelling and Simulation
CAD Tools
Circuits and Electronics for Data Conversion and S-D Modulation
Capacitor/Current Techniques
Prototype Devices and Measurement
Circuits and Systems for Control and Robotics
Electron Devices for Power Technology
High Voltages and Electric Machines
Device Physics
Physical Design
High-Level Synthesis and Testing
Non-Linear Circuits
Formal Verification
Semiconductors
Superconductivity Circuits
Computer-Aided Design
Instrumentation
Instrument-Computer Interface
Military Electronics
Electronics for Space exploration
Consumer Electronics
Circuits in Power Technology
Electron Devices for Video Technology
Circuits for Antennas Technology
Electron Devices and Systems for Radar and Sonar Systems
Circuit Models, Electrical and Electronic Measurement
Circuits for Industrial Applications
Circuit models for Electromagnetic Fields
Electronics for Signal Processing and other Applications
Neural Networks
Numerical Analysis and Circuits
Logic Synthesis
Fuzzy Logic and Circuits Design
Circuit Implementation for Fuzzy Systems
Multidimensional Circuits and Systems
Generation, transmission & distribution planning
Reliability and Security
Dynamic transient stability and voltage stability
Electromagnetic transient evaluations
Insulation co-ordination
Transmission & distribution equipment
Generator Protection and Control
Parallel Operation of Generators
Protection
Portable Power Systems
Corporate planning and Management
Alternative energy systems
Environmental Issues
Energy Management Systems
Deregulation and Electric Power Market
Impacts of deregulation
Electricity pricing and transactions
Open access
TPP and Co-generation
Power Market
Reliability
Optimization Techniques
Electricity Demand Management
Load Management
FACTS and Custom Power Devices for Power Quality
Power Switching
Uninterrupted Power Supplies
Power Factor Compensation and Conditioning
Capacitor Switching Techniques
Applied Electromagnetics for Electric Machines
Design, Modelling and Control
Stability Problems
Electronics for Electric Machinery
Generalized Electric Machines
Mathematical Problems, Simulation
Computational Analysis of related problems
Applications
Electric Vehicles
Energy Storage
Batteries and Battery Chargers
Control Strategies
Electric vehicles performance and Efficiency
Impacts of battery re-chargement on distribution systems
Fuel cell vehicles
Hybrid vehicles
Environmental issues and Impacts
Paper Submission and Publication
All papers should be submitted by an online system for review (at least 3 pages). Every submitted paper will be carefully reviewed by at least three members of the International Program Committee.
Authors should submit a paper in English, carefully checked for correct grammar and spelling, addressing one or several of the conference areas or topics. Each paper should clearly indicate the nature of its technical/scientific contribution, and the problems, domains or environments to which it is applicable. Only original papers should be submitted. Authors are advised to follow ethical norms regarding plagiarism and self-plagiarism thoroughly before submitting and must make sure that their submissions do not substantially overlap work that has been published elsewhere or simultaneously submitted to a journal or another conference with proceedings. Papers that contain any form of plagiarism will be rejected without reviews.
Authors can submit their work in the form of a Regular Paper, representing completed and validated research, or as a Position Paper, portraying a short report of work in progress or an arguable opinion about an issue discussing ideas, facts, situations, methods, procedures or results of scientific research focused on one of the conference topic areas. All papers must be submitted through the online submission platform. After the paper submission has been successfully completed, authors will receive an automatic confirmation e-mail. All the papers should be 6 pages in length.
Article/Paper Submissions Link: https://mysubmissions.online/stem-conferences-a-2024/
Registration: https://www.tickettailor.com/events/stemconferences/936581
Time

13 (Thursday) 9:00 am - 14 (Friday) 5:00 pm
Location

Bangkok, Thailand[Physical/Online]