Tenth International Conference on eBusiness, eCommerce, eManagement, eLearning and eGovernance 2023
17aug(aug 17)9:00 am18(aug 18)5:00 pmTenth International Conference on eBusiness, eCommerce, eManagement, eLearning and eGovernance 2023IC5E 2023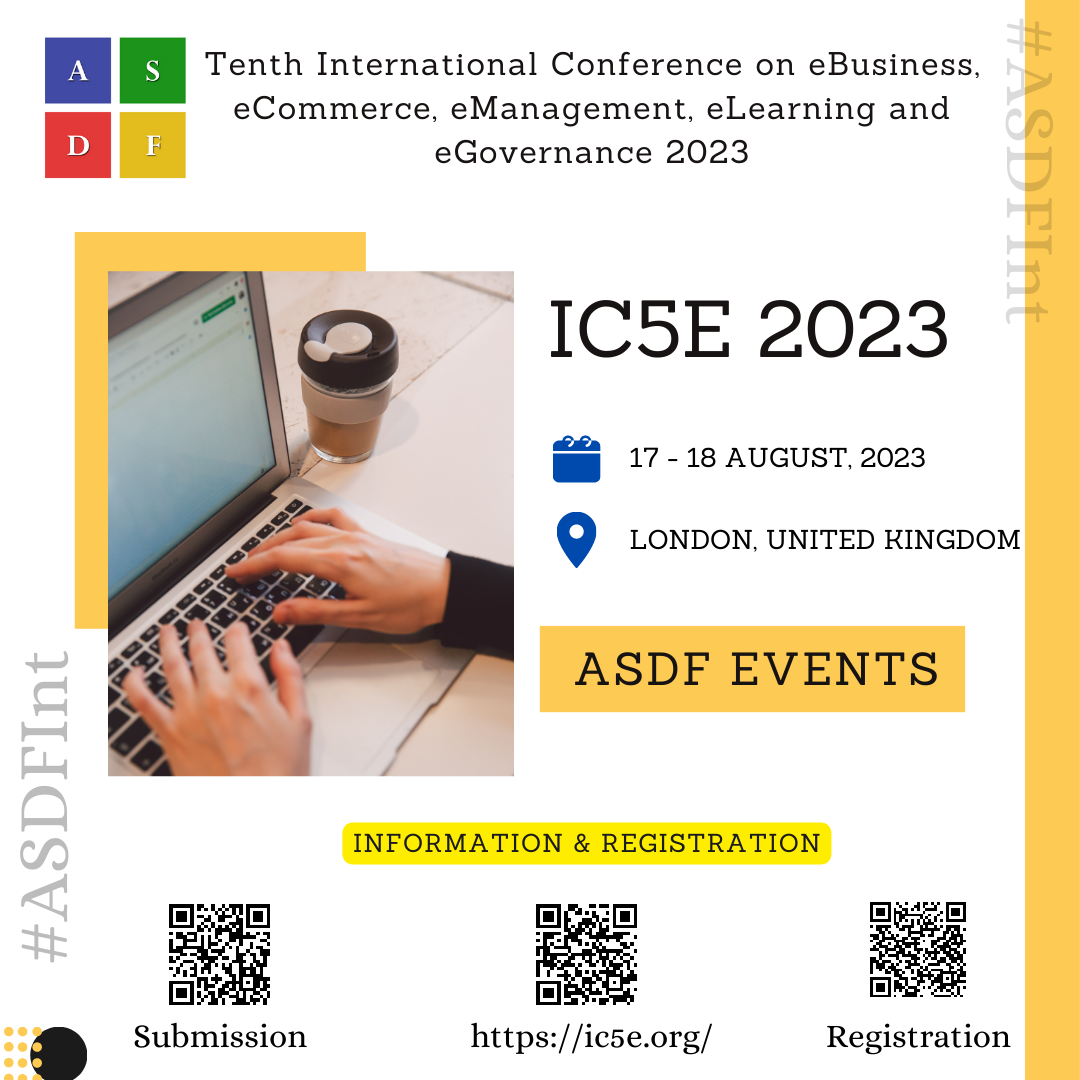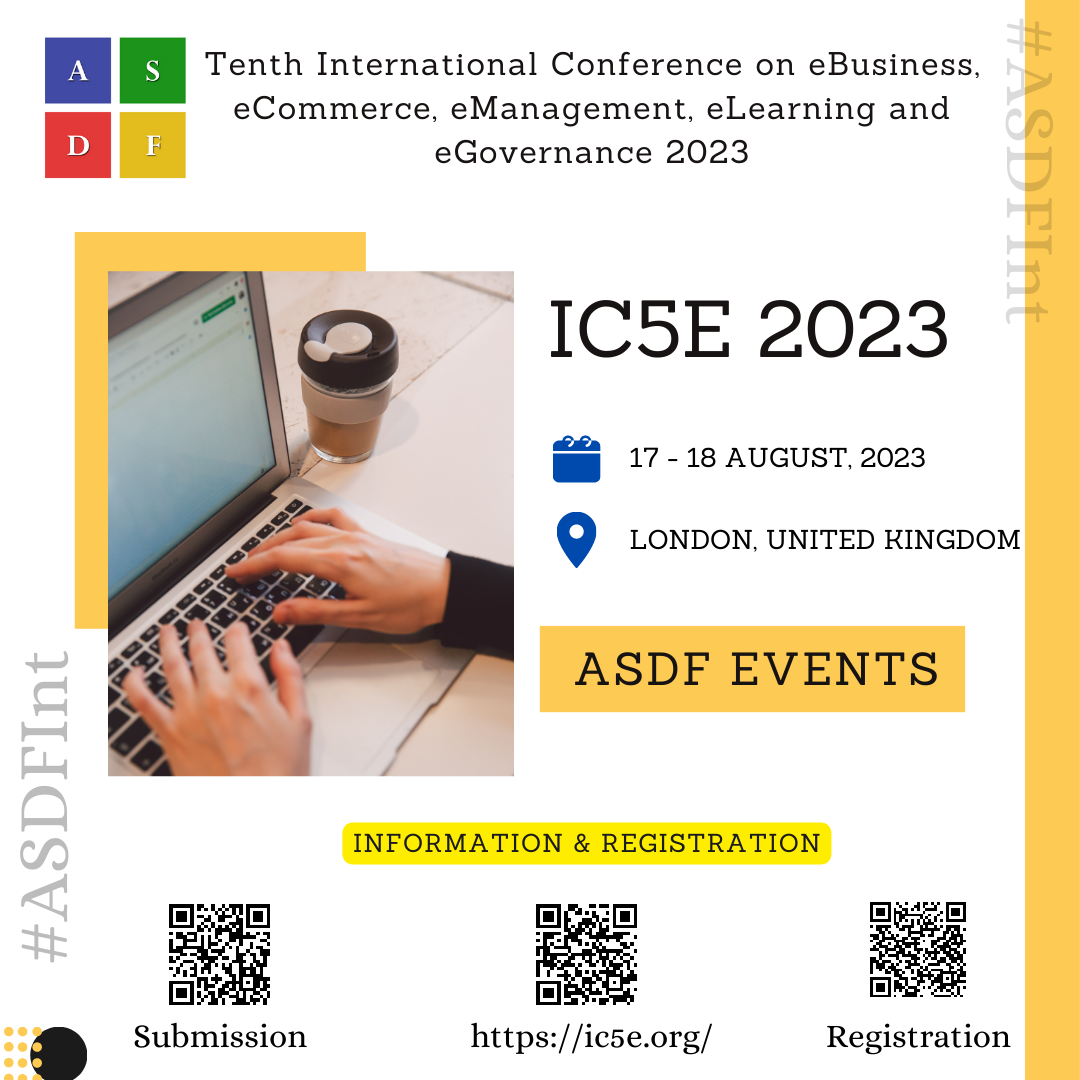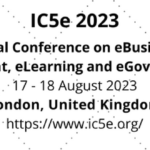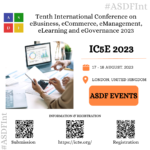 Event Details

IC5E 2023 will be the most comprehensive conference focused on the various aspects of eBusiness, eCommerce, eManagement, eLearning, and eGovernance. This Conference provides a chance for academic and industry professionals to discuss recent progress in the area of eBusiness, eCommerce, eManagement, eLearning, and eGovernance. Furthermore, we expect that the conference and its publications will be a trigger for further related research and technology improvements in this important subject.

The goal of this conference is to bring together researchers from academia and industry as well as practitioners to share ideas, problems, and solutions relating to the multifaceted aspects of eBusiness, eCommerce, eManagement, eLearning and eGovernance.
TRACKS OF THE CONFERENCE
eBusiness
Innovative Business Models
Enterprise application integration
Business process re-engineering
Virtual enterprises and virtual markets
Supply, demand, and value chains
Virtual organizations and coalitions
Customer relationship management
e-Collaboration and e-Services
Inter-organizational systems
Future work environments for e-Business
Business Process Integration
e-Work
Inter-workflow
Mobile business
eCommerce
Business / Enterprise Architectures
Electronic Markets and Multiagent Systems
Semantic Web Ontologies, Rules, and Services
Digital Goods and Products
eNegotiations, Auctioning and Contracting
B2B, B2C, and C2C models
eMarket places, eHubs, and portals
Pervasive technologies for eCommerce
Dynamic pricing models
P2P-computing for eCommerce
ePayment systems
eCommerce Content Management
Consumer protection in eCommerce
eLearning
e-Learning platforms
eEducation
Practices and Cases in e-Education
Systems and Technologies in eEducation
Applications and Integration of eEducation
eLearning Evaluation and Content
Campus Information Systems
eLearning Technologies, Standards, and Systems
Mobile Learning(mLearning)
Computer Aided Assessments
Virtual Learning Environments (VLE)
Multimedia in eLearning
Partnerships in eLearning
e-Learning Strategies
Effectiveness and Social Benefits of eLearning
Web-based and Collaborative Learning
Self-learning Integrated Methodology
Assertive and Assistive Educational Technology
Digital Classrooms Blended Learning
eManagement
eAudit
eControl and Risk Management
ePlanning
eOrganising
eSupervision
ePolitics
eCommunication
eRecruitment
Systems, Design and Technologies
Knowledge Management
Technology Adoption and Diffusion of eManagement
eManagement Technologies, Standards and Systems
eManagement Strategies
eManagement Effectiveness and Outcomes
Social Benefits of eManagement
Current Trends in eManagement
Threats in eManagement
Other Relevant Topics
eGovernance
mGovernance
eGovernment
eDemocracy
eGovernment, Policy, and Law
Government to Citizens, G2C
Government to Business, G2B
Government to Government, G2G
Present Trends in eGovernance
Threats in eGovernance
ePassport
eBallot
eVoting
eDistrict
eMunicipality
eCourts
eOffice
eVisa
Other Relevant Topics
PAPER SUBMISSION
Authors should submit a paper in English, carefully checked for correct grammar and spelling, addressing one or several of the conference areas or topics. Each paper should clearly indicate the nature of its technical/scientific contribution, and the problems, domains or environments to which it is applicable. Only original papers should be submitted. Authors are advised to follow ethical norms regarding plagiarism and self-plagiarism thoroughly before submitting and must make sure that their submissions do not substantially overlap work that has been published elsewhere or simultaneously submitted to a journal or another conference with proceedings. Papers that contain any form of plagiarism will be rejected without reviews.
Authors can submit their work in the form of a Regular Paper, representing completed and validated research, or as a Position Paper, portraying a short report of work in progress or an arguable opinion about an issue discussing ideas, facts, situations, methods, procedures or results of scientific research focused on one of the conference topic areas. All papers must be submitted through the online submission platform. After the paper submission has been successfully completed, authors will receive an automatic confirmation e-mail.
All the papers should be 6 pages in length and should adhere to the template prescribed in the ASDF KIT. Please read through the instructions in the below link before preparing the final template.
Article/Paper Submission Link: https://mysubmissions.online/ic5e-2023/
Registration: https://payments.asdf.events/ic5e-2023-iccceg-2023/
Time

17 (Thursday) 9:00 am - 18 (Friday) 5:00 pm
Location

London, United Kingdom [Physical/Online]