Sixth International Conference on Knowledge Collaboration in Engineering 2023
28sep(sep 28)9:00 am29(sep 29)5:00 pmSixth International Conference on Knowledge Collaboration in Engineering 2023ICKCE 2023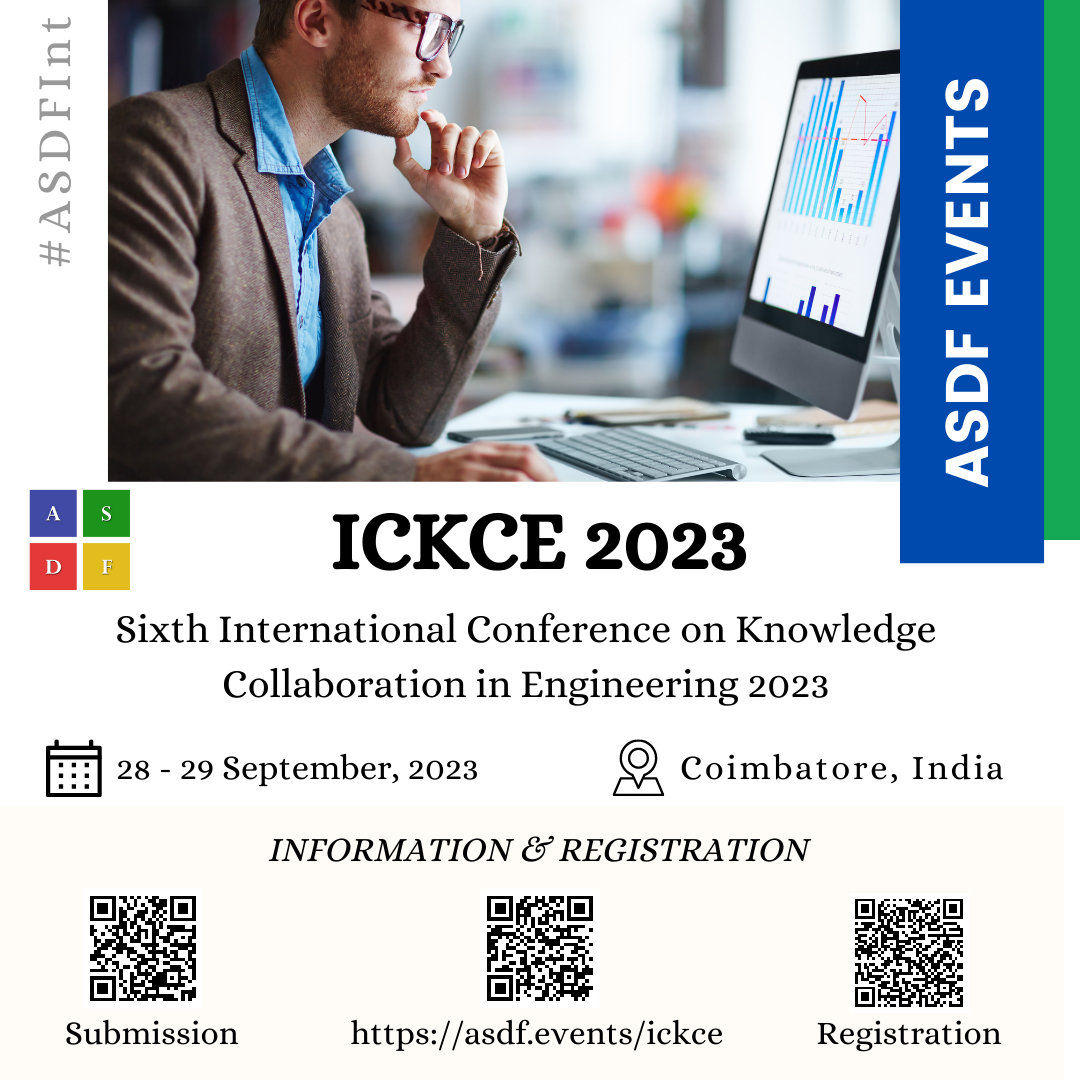 Event Details

ICKCE 2023 will be the most comprehensive conference focused on the various aspects of Knowledge Collaboration in Engineering. This Conference provides a chance for academic and industry professionals to discuss recent progress in the area of Knowledge Collaboration in Engineering. Furthermore, we expect that the conference and its publications will be a trigger for further related research and technology improvements in this important subject.

The goal of this conference is to bring together researchers from academia and industry as well as practitioners to share ideas, problems, and solutions relating to the multifaceted aspects of Knowledge Collaboration in Engineering.
TRACKS OF THE CONFERENCE
Electronic and Communication Technologies
Ad Hoc Networks and Wireless
Communication Technologies
Digital Signal Processing / Image Processing
VLSI Design & Technology
Optical Network & Switches
Impact of RF Radiation on the Environment
Embedded Systems & Technologies
Artificial Neural Networks
Biomedical Signal Processing
Communication Techniques
DSP and FPGA based Systems
Embedded systems & RTOS
ASIC & SOC
MMIC & CMOS Circuits
Nano-fabrication & Computing
Integration of Electronic Systems Electrical, Instrumentation, Control, and Optimization Technologies
Energy storage devices & systems
Flexible AC Transmission systems
Intelligent Energy Distribution & Management
Power Electronics & Drives / Power Quality Issues
Adaptive & Learning Control
Non-linear Systems
Process Control & Control Systems
Industrial Automation / Renewable Energy Applications
Control System
Distributed control systems
Electrical Machines
Fuzzy logic control
High Voltage Engineering
Intelligent automation Mechanical, Aeronautical, and Civil Engineering
Green Logistics & Supply Chain Management
Smart Materials & Nano Materials
Optimization Techniques / Reverse Engineering
CAD / CAM / CIM
Robotics / Mechatronics
Hybrid & Electric Vehicles / Alternate Fuels
MEMS / NEMS Technologies & applications
Intelligent Transportation Systems
Fluid Engineering Systems & Technologies
Dynamics, Vibration and Control
Safety, Reliability and Risk Assessment
Fracture Mechanics
Advanced Materials & Manufacturing
Green Manufacturing
Product Development strategies
Green Environmental Management Systems
Smart Structures & Materials
Nano Technology in Civil Engineering Management
Innovations- Implications of Green Technology
Green Management
Managerial Challenges of Green Technology in Contemporary Society
New Frontiers in Green Technology Science and Humanities
Computational Fluid Dynamics
Energy & Environment
Environmental Sciences
Graph Theory
Finite Element Methods
Industrial & Pollution Control
PAPER SUBMISSION
Authors should submit a paper in English, carefully checked for correct grammar and spelling, addressing one or several of the conference areas or topics. Each paper should clearly indicate the nature of its technical/scientific contribution, and the problems, domains, or environments to which it is applicable. Only original papers should be submitted. Authors are advised to follow ethical norms regarding plagiarism and self-plagiarism thoroughly before submitting and must make sure that their submissions do not substantially overlap work that has been published elsewhere or simultaneously submitted to a journal or another conference with proceedings. Papers that contain any form of plagiarism will be rejected without reviews.
Authors can submit their work in the form of a Regular Paper, representing completed and validated research, or as a Position Paper, portraying a short report of work in progress or an arguable opinion about an issue discussing ideas, facts, situations, methods, procedures or results of scientific research focused on one of the conference topic areas. All papers must be submitted through the online submission platform. After the paper submission has been successfully completed, authors will receive an automatic confirmation e-mail.
All the papers should be 6 in pages length and should adhere to the template prescribed in the ASDF KIT. Please read through the instructions in the below link before preparing the final template.
Article/Paper Submission Link: https://mysubmissions.online/ickce-2023/
Registration: https://payments.asdf.events/icaciem-2023-icfapec-2023-ickce-2023-icsmart-2023/
Time

28 (Thursday) 9:00 am - 29 (Friday) 5:00 pm
Location

Coimbatore, India [Phsyical/Online]