Eighth International Conference on Internet of Things and Cloud Computing 2023
23nov(nov 23)9:00 am24(nov 24)5:00 pmEighth International Conference on Internet of Things and Cloud Computing 2023ICIOTCC 2023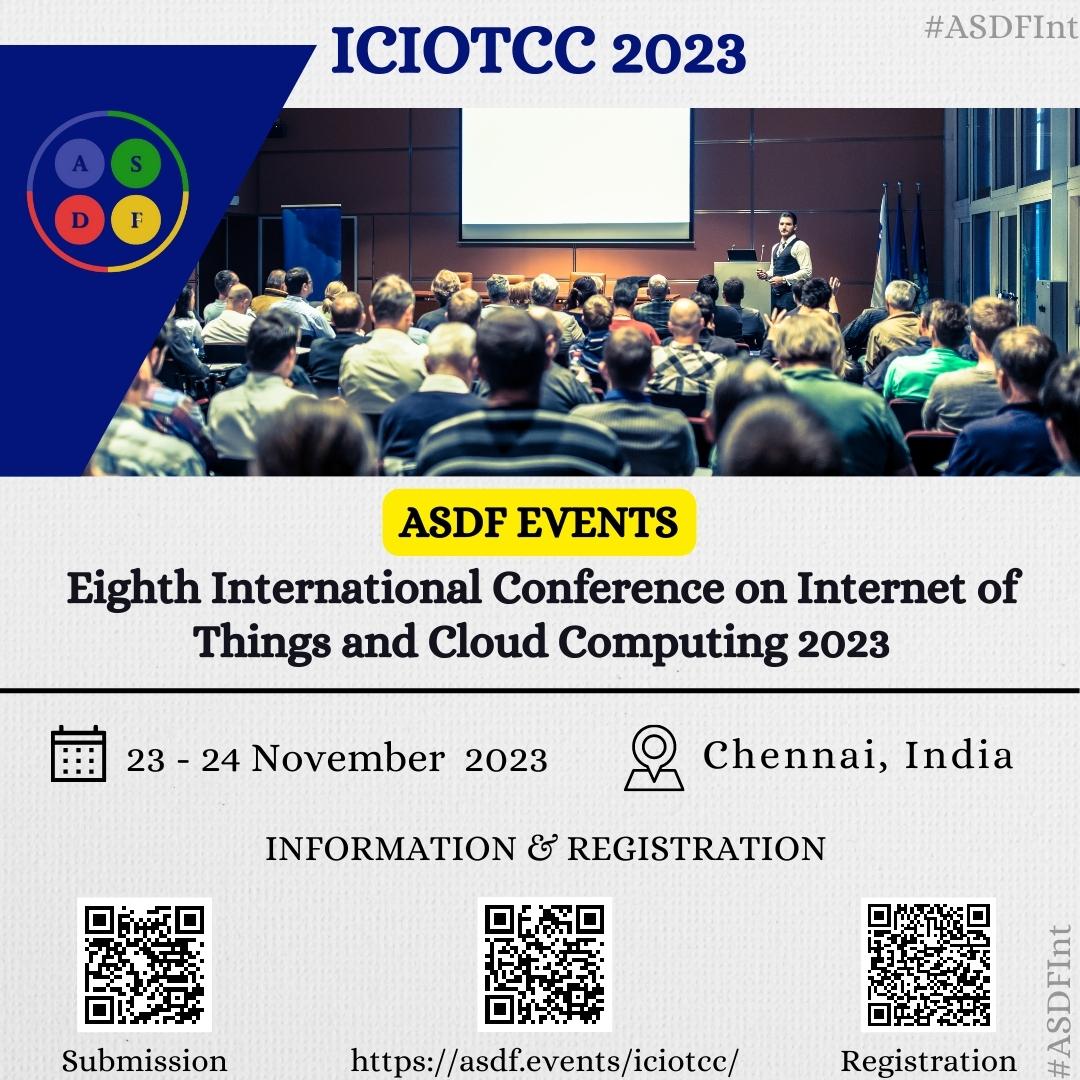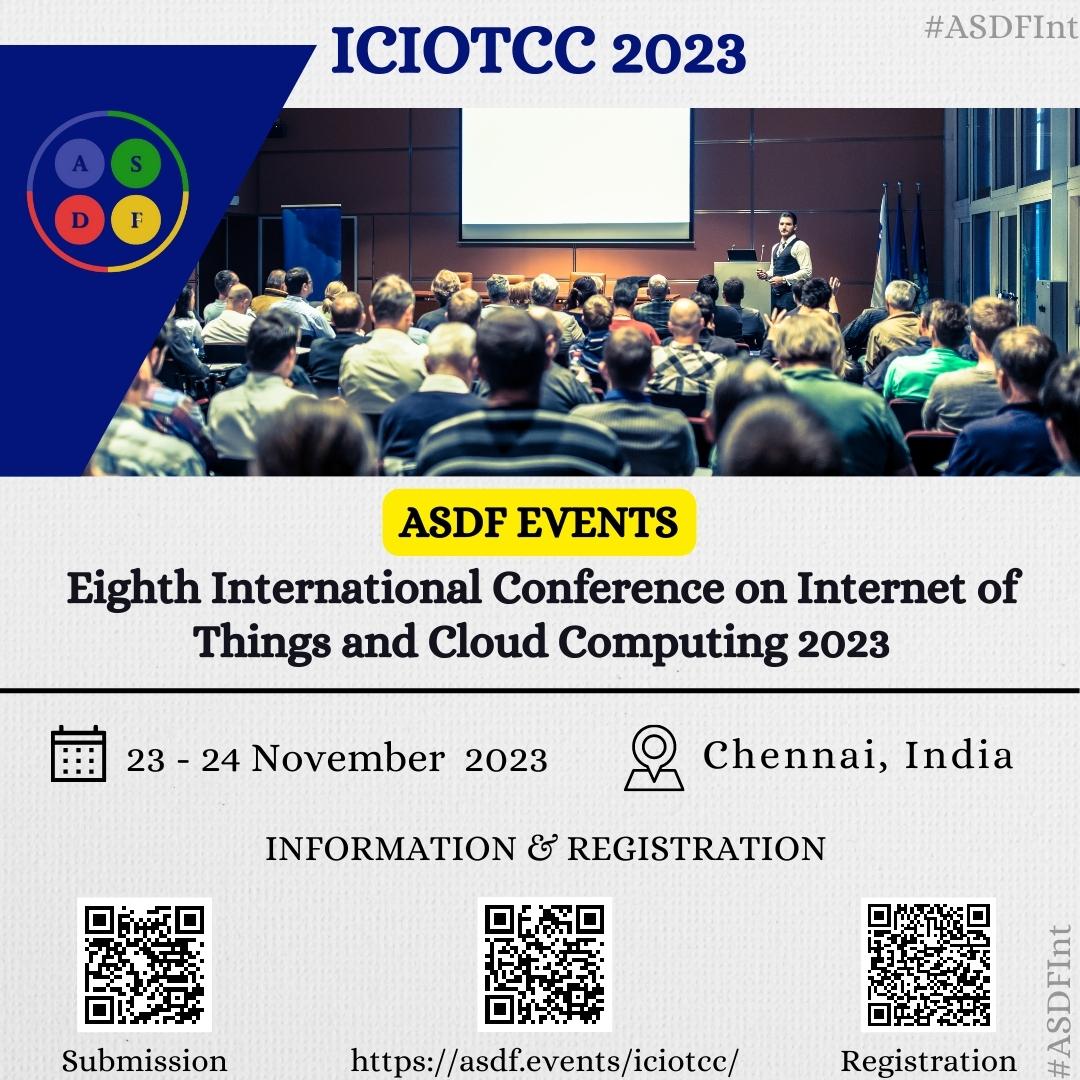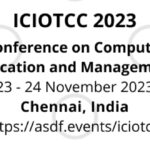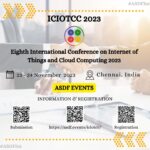 Event Details

The International Conference on Internet of Things and Cloud Computing 2023 (ICIOTCC 2023), aims to bring researchers, scientists, engineers, and research scholars together to exchange and share their experiences, new ideas, and the research outcome of all possible aspects of the Internet of Things and Cloud Computing. So, considering the recent advancements and others the conference tile has been selected. IoT systems are becoming increasingly complex. More intelligent and heterogeneous IoT devices are introduced on the market. Moreover, the integration of Cloud computing together with IoT systems is leaving space for the support of more sophisticated applications and services.

ICIOTCC 2023 ONLY accepts unpublished research papers in English. Submitted conference papers will be reviewed by the technical committees of the Conference. All accepted papers will be published in the conference proceeding by the Association of Scientists, Developers and Faculties and indexed by EDLIB which in turn indexed by other major indexers.
TRACKS OF THE CONFERENCE
Actuator and acting technologies
Wireless sensor networks
Low power and energy harvesting
Wireless communication protocols
Real-time systems for IoT
5G and next-generation networks
IoT big data analytics
Self-organizing networks
Lightweight communications
Embedded hardware and software
Radio frequency identification
Hyper-connected smart devices
Efficient routing protocols
IOT Solution Reference Architectures and Instances
Next Generation Infrastructure for IoT
Cloud Computing (IAAS, PAAS, SAAS) for IoT
Big Data for IoT
Open Platforms for IoT
Wearable Devices for IoT
Artificial Intelligence for IoT
IOT-based Smart City Solutions
IOT-based Smart Home
IOT-based Smart Education Systems
IOT-based Robots
Security, Privacy, and Trust in IoT
IOT Standards and Application Scenarios
IOT-based Enterprise Management
IOT-based Business Process Management
IOT-based Auto Driving
IOT-based Intelligent Manufacturing
Artificial intelligence for IoT
Industrial IoT applications
Data mining platforms for IoT
Agriculture IoT applications
Open service platform
Environment monitoring
Semantic service for IoT
Education for IoT
Business system for IoT
Intelligent transportation
IoT application support
Open topic for future IoT
IoT Testbed and deployment
Infrastructure as a service (IaaS)
Platform as a service (PaaS) and Cloud Foundry
Software as a service (SaaS)
Storage as a service
Network as a service
Information as a service
Cloud Computing Architectures
Storage ad Data Architectures
Distributed and Cloud Networking
Infrastructure Technologies
Public, Private, and Hybrid Clouds
Cloud Composition, Federation, Bridging, and Bursting
Cloud Migration
Hybrid Cloud Integration
Compliance Management in Cloud
Green and Energy Management of Cloud Computing
Cloud Configuration and Capacity Management
Cloud Workload Profiling and Deployment Control
Self-service Cloud Portal, Dashboard, and Analytics
Cloud Metering and Monitoring
Service management automation
Cloud Security
Data Privacy
Cloud Privacy
Security as a service
Performance of cloud systems and applications
Cloud Availability and Reliability
Microservices-Based architecture
Virtualization and Composition
Cloud Provisioning Orchestration
Architecture support for cloud computing
Analytics Applications
Scientific Computing and Data Management
Big data management and analytics
Storage, Data, and Analytics Clouds
Cloud Solution Design Patterns
Cloud Programming Models
Cloud Development Tools
Service Life Cycle Management
Autonomic Business Process and Workflow Management in Clouds
Cloud Modelling
Large Scale Cloud Application
Innovative Cloud Applications and Experiences
Social and Mobile Clouds
Cloud Strategy for Enterprise Business Transformation
Cloud Service Level Agreement (SLA)
Economic, Business Model of Cloud
ROI Analysis
Cloud Quality Management
Cloud Computing Consulting
Cloud Cost and Pricing
PAPER SUBMISSION
Authors should submit a paper in English, carefully checked for correct grammar and spelling, addressing one or several of the conference areas or topics. Each paper should clearly indicate the nature of its technical/scientific contribution, and the problems, domains, or environments to which it is applicable. Only original papers should be submitted. Authors are advised to follow ethical norms regarding plagiarism and self-plagiarism thoroughly before submitting and must make sure that their submissions do not substantially overlap work that has been published elsewhere or simultaneously submitted to a journal or another conference with proceedings. Papers that contain any form of plagiarism will be rejected without reviews.
Authors can submit their work in the form of a Regular Paper, representing completed and validated research, or as a Position Paper, portraying a short report of work in progress or an arguable opinion about an issue discussing ideas, facts, situations, methods, procedures or results of scientific research focused on one of the conference topic areas. All papers must be submitted through the online submission platform. After the paper submission has been successfully completed, authors will receive an automatic confirmation e-mail.
All the papers should be 6 in pages length and should adhere to the template prescribed in the ASDF KIT. Please read through the instructions in the below link before preparing the final template.
Article/Paper Submission Link: https://asdf.events/iciotcc/
Registration: https://payments.asdf.events/iccelem-2023-ichmi-2023-icics-2023-iciotcc-2023/
Time

23 (Thursday) 9:00 am - 24 (Friday) 5:00 pm
Location

Chennai, India[Physical/Online]