Event Type 2
Technically Sponsored
16jun(jun 16)9:00 am17(jun 17)5:00 pmVirtual/ Physical EventInternational Conference on Globalisation and Issues of Higher Education 2022ICGIHE 2022This event ends in..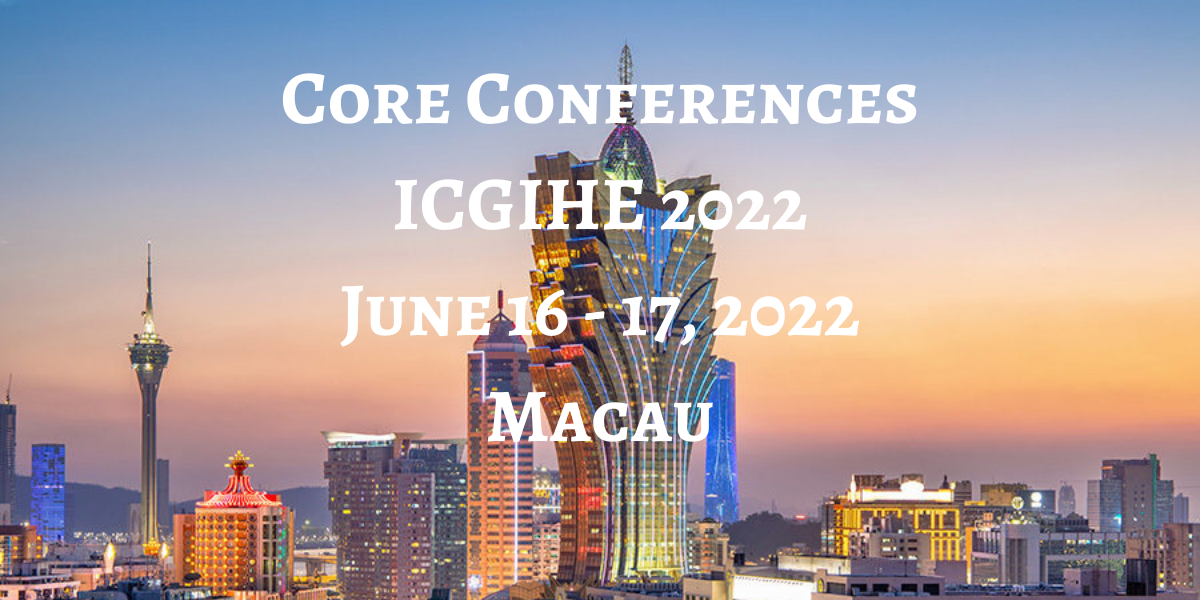 Event Details

ICGIHE 2022 is an opportunity for academics, students, scholars, scientists and engineers from around the world who are involved in the study, management, development and implementation of systems and concepts to combat information warfare or to improve Globalisation and Issues of Higher Education to come together and exchange ideas. This conference is trying to establish itself as a key event for the understanding of threats and risks to information systems, the development of a strong security culture, and incident investigation.

Please consider submitting to this conference. We are interested in the entire range of concepts from theory to practice, including case studies, works-in-progress, and conceptual explorations.
TRACKS OF THE CONFERENCE
Prospective authors are invited to submit original technical papers by the deadline for publication in the ICGIHE 2022 Conference Proceedings and for presentation(s) in the symposia listed below. Deadlines will be strictly matched and late papers will be summarily rejected. The conference welcomes papers on the following (but not limited to) research topics.
Education, Research and Globalization
Barriers to Learning (ethnicity, age,…)
psychosocial factors
Women and Minorities in Science and Technology
Indigenous and Diversity Issues
Government Policy issues
Organizational, Legal and Financial Aspects
Digital Divide
Increasing Affordability and Access to the Internet
Ethical issues in Education
Intellectual Property Rights and Plagiarism
Simulated Communities and Online Mentoring
e-Testing and new Test Theories
Supervising and Managing Student Projects
Pedagogy Enhancement with e-Learning
Educating the Educators
Immersive Learning
Blended Learning
Computer-Aided Assessment
Metrics and Performance Measurement
Assessment Software Tools
Assessment Methods
Competitive Skills
Continuing Education
Adult education and Higher Education
Vocational Education
Transferring Disciplines
Music Education
Writing Education
Imaginative Education
Language Education
History
Accreditation and Quality Assurance
Academic Experiences
Best Practice Contributions
Copy-right
Digital Libraries and Repositories
Digital Rights Management
Evaluation and Assessment
E-content Management and Development
Open Content
e-Portfolios
Grading Methods
Knowledge Management
Quality processes at National and International level
Security and Data Protection
Student Selection Criteria in Interdisciplinary Studies
User-Generated Content
Teacher Education
Cross-disciplinary areas of Education
Educational Psychology
Education practice trends and issues
Indigenous Education
Kinesiology and Leisure Science
Life-long Learning Education
Mathematics Education
Physical Education (PE)
Reading Education
Religion and Education Studies
Research Methodologies
Academic Research Projects
Joint-research programmes
Research on Technology in Education
Research Centres
Links between Education and Research
New Challenges in Education
ECTS experiences
The Bologna Process and its implementation
Joint-Degree Programmes
Erasmus and Exchange experiences in universities
Students and Teaching staff
Exchange programmes
Article/Paper Submissions Link: https://mysubmissions.online/core-conferences-2022/
Time

16 (Thursday) 9:00 am - 17 (Friday) 5:00 pm
Location

Macau [Physical/Online]
08jul(jul 8)9:00 am09(jul 9)5:00 pmVirtual/ Physical EventInternational Conference on Cloud of Things and Wearable Technologies 2022ICCOTWT 2022This event ends in..

Event Details

ICCOTWT 2022 will be the most comprehensive conference focused on the various aspects of Cloud of Things and Wearable Technologies. This Conference provides a chance for academic and industry professionals to discuss recent progress in the area of Cloud of Things and Wearable Technologies. Furthermore, we expect that the conference and its publications will be a trigger for further related research and technology improvements in this important subject.

The goal of this conference is to bring together the researchers from academia and industry as well as practitioners to share ideas, problems and solutions relating to the multifaceted aspects of Cloud of Things and Wearable Technologies.

To provide opportunities for the different research area delegates to exchange new ideas and application experiences face to face, to establish business / research relations to find global partners for future collaboration in the areas of Cloud of Things and Wearable Technologies. Papers describing new methods or technologies, advanced prototypes, systems, tools and techniques and general survey papers indicating future directions are also encouraged. Papers describing original work are invited in any of the areas listed below. Accepted papers, presented at the conference by one of the authors, will be published in the Proceedings of ICCOTWT 2022, with an ISBN. Acceptance will be based on quality, relevance and originality. Both full research reports and work-in-progress reports are welcome. There will be both oral and virtual sessions.

The papers will be made to appear in a book to be published by ASDF HQ, India in EDLIB (www.edlib.net). All the published paper will be indexed by Google Scholar and various others search engines.
TRACKS OF THE CONFERENCE
5G Networks and IoT
Software Defined Network (SDN) and IoT
Sensor and Actuator Networks
Ultra-low power IoT Technologies and Embedded Systems Architectures
Wearables, Body Sensor Networks, Smart Portable Devices
Design Space Exploration Techniques for IoT Devices and Systems
Heterogeneous Networks, Web of Things, Web of Everything
IoT Protocols (IPv6, 6LoWPAN, RPL, 6TiSCH, W3C)
Named Data Networking for IoT
Internet of Nano Things
Sensors Data Management, IoT Mining and Analytics
Adaptive Systems and Models at Runtime
Distributed Storage, Data Fusion
Routing and Control Protocols
Resource Management, Access Control
Mobility, Localization and Management Aspects
Identity Management and Object Recognition
Localization Technologies
Edge Computing, Fog Computing and IoT
Machine to Machine (M2M)/Devices-to-Devices communications and IoT
Industrial IoT and Factory of Things and Internet of Things
Cyber-physical systems, Context Awareness, Situation Awareness, Ambient Intelligence
Collaborative Applications and Systems
Service Experiences and Analysis
Smart Cities, Smart Public Places, Smart Home/Building Automation
e-Health, e-Wellness, Automotive, Intelligent Transport
Smart Grid, Energy Management
Consumer Electronics, Assisted Living, Rural Services and Production
Industrial IoT Service Creation and Management Aspects
Crowd-sensing, human centric sensing
Big data and IoT Data Analytics
Internet Applications Naming and Identifiers
Semantic Technologies, Collective Intelligence
Cognitive and Reasoning about Things and Smart Objects
Mobile Cloud Computing (MCC) and IoT
Horizontal application development for IoT
Design principals and best practices for IoT application development
Human Role in the IoT, Social Aspects and Services
Value Chain Analysis and Evolution Aspects
New Human-Device Interactions for IoT, Do-It-Yourself
Social Models and Networks
Green IoT: Sustainable Design and Technologies
Urban Dynamics and crowdsourcing services
Metrics, Measurements, and Evaluation of IoT Sustainability and ROi
IoT Privacy and Security Concerns
Identification and authentication issues
Wireless sensor network for IoT security
Intrusion detection in IoT
Cryptography, key management and authorization for IoT
Physical/MAC/Network Attacks in Internet of Things
Cross-layer attacks in IoT & Security with QoS optimization in IoT
Privacy based channel access in IoT & IoT forensic science
Big data and information integrity in IoT
Communication security in IoT
Security standards in IoT
Closing the Gap between Research and Implementation
Experimental prototypes, Test-Bed and Field Trial Experiences
Multi-Objective IoT System Modelling and Analysis—Performance, Energy, Reliability, Robustness
IoT Interconnections Analysis—QoS, Scalability, Performance, Interference
Real case deployment scenarios and results
IoT deployment at Government and ISPs
IoT deployment on agriculture, retails, smart cities, etc.
IoT Interconnections among ISPs Analysis—QoS, Scalability, Performance, Interference
Gaps Analysis for real deployment
IoT and Future Internet architectures
Standardization and Regulation
Data Exchange Platforms
Wearable Technologies
App Developments
Advertising/Marketing
Augmented Reality
Big Data
Business Funding
Cloud Services
Connected Car
Connected Devices
Defence
Enterprise
Fashion
Gaming
Government
Home Automation
Imaging
Innovation
Lifestyle & Entertainment
Location Based Services
M2M and the Internet of Things
Manufacturing
MEMs Sensors
m-health
Mobile Payments
Monitoring Devices/Trackers
Next Generation Technologies
Privacy
Product Design
Quantified Self
Retail
Security
Social impact of WT
Smart Cities
Smart Fabrics
Start-up advice
Video
Wellbeing
Article Submissions Link: https://mysubmissions.online/iccotwt-2022/
Time

8 (Friday) 9:00 am - 9 (Saturday) 5:00 pm
Location

Michigan, United States of America [Physical/Online]